There are a few different ways to make custom stamps. Here you can find the steps for making custom stamps from existing annotations, from camera or photo library, stamping with a specific image, and resizing and moving stamps.
Existing annotation:
Most annotations can be turned into stamps. To turn an existing annotation into a stamp.
1. First tap on the annotation to make it editable (a dotted box will surround the annotation).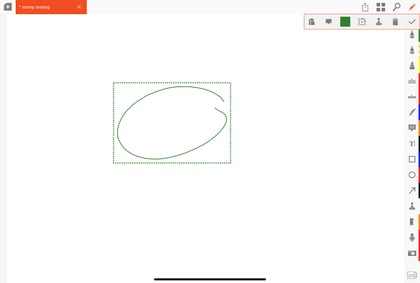 2. Locate the annotation specific menu in the top right
3. Tap the stamp button in that menu.
4. Name your stamp and tap the check mark next to the name to save it. This saves the stamp in the stamp library.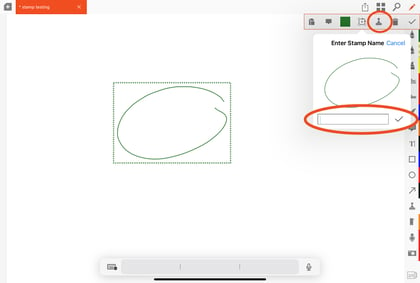 Tip: Type a number first when naming and this will move your stamp image to the top of the library making it quicker to find.
To use the stamp tool with this custom stamp image:
1. Tap the stamp tool on the toolbar.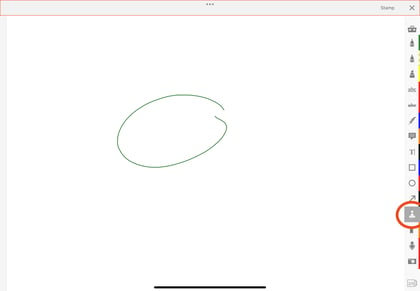 2. Then tap the page where you want the stamp to appear. The stamp library will appear.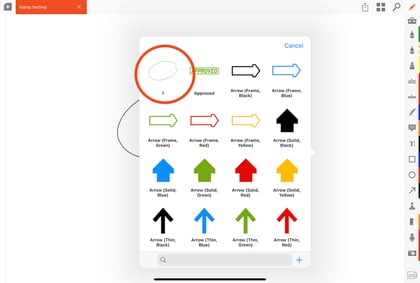 3. Select your stamp image and it will stamp on the page.
Moving and Resizing Stamps
If you need to adjust the size or position of your stamp you can do this after the stamp is placed on the page.
1. Tap on the stamp image. The menu specific to the stamp will appear in the top right.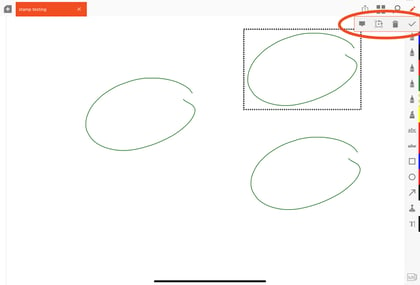 To move the stamp, drag it where you would like it.
To resize the stamp, select the resizing icon from the stamp menu.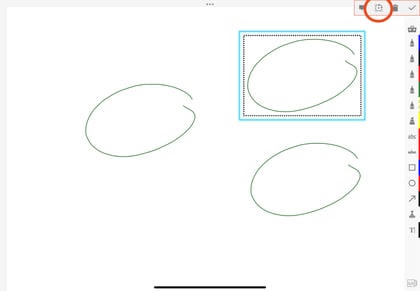 From camera or photo library:
1. Tap the stamp tool from the toolbar (or look here for "stamp with specific image" instructions).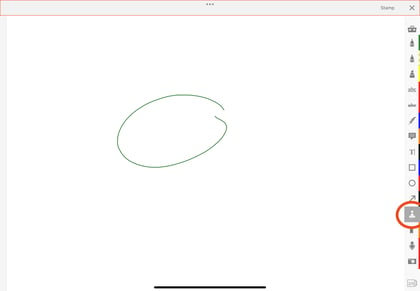 2. Tap the page where you want your stamp to go and the stamp library will pop-up.
3. Tap the "+" on the bottom right of the stamp library. A menu will pop-up with options for "camera" or "photo library".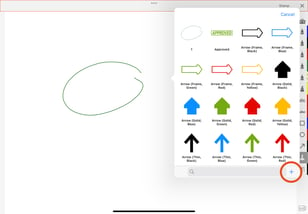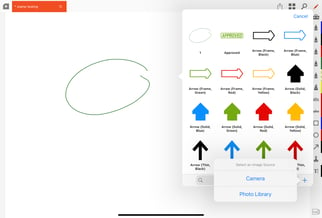 4. Select your option and proceed by taking or selecting the image, naming and saving.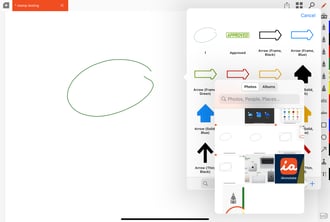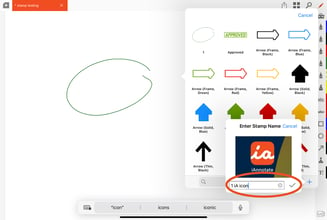 Stamp with a specific image- create a stamp that always stamps with one image:
If you frequently use a specific image then "stamp with a specific image" might be useful for you. We can add this stamp directly to your toolbar allowing quicker access to this stamp. Here are the steps to add this tool. Additionally, there can be an unlimited amount of stamps created this way (limited to the number of tools allowed on each toolbar. You can create multiple toolbars)
1. Tap the toolbox icon on the top of the toolbar
2. Drag the "stamp with a specific image" from the tool menu to the toolbar.
3. Choose the image from the stamp library or create one from your camera or photo library.
4. When finished tap done.